The knee joint is one of the most vulnerable in the body. This complex combination of bones, cartilage, muscles, ligaments and tendons is particularly susceptible to injury among workers who spend much of their day kneeling. In response, D3O has created the world's most advanced knee protection range, providing unparalleled comfort, stability and durability: D3O® TRX™. 
An electrician, floor layer or other worker spending several hours per day on their knees can load the joint with up to 89 percent of their body weight. However, effective knee protection is often overlooked. Knee pads may not be considered a priority purchase compared to more visible personal protective equipment (PPE) such as gloves or a safety helmet. Alternatively, a worker may be tempted to purchase a cheap product that merely 'does the job' and is rarely, if ever, replaced.   
Not surprisingly, knee injuries are common. Research shows that frequent knee pain affects around 25 per cent of adults. Tasks involving crouching, kneeling or squatting increase the risk of injuries such as bursitis, where fluid builds up in the sac cushioning the joint, or osteoarthritis, where the cartilage that cushions the bones of the knee is eroded.  
Such conditions cause pain, swelling and stiffness that can result in days off the job, along with significant healthcare claims. The average cost of a knee replacement in the US in 2020 was between $30,000 and $50,000, with a typical three-month recovery period.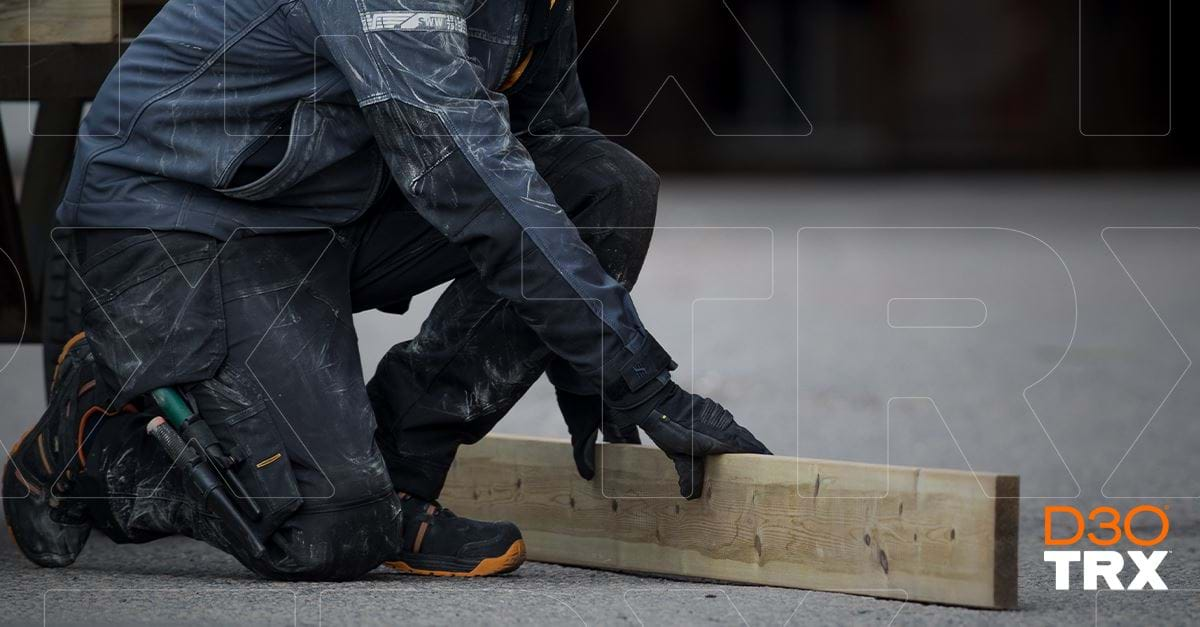 Identifying the need for long-lasting protection
The reasons why most current workwear pant knee pad inserts offer inadequate protection are to be found in their materials and method of construction. These pads are typically manufactured from low-density ethylene-vinyl acetate (EVA) foams. This type of material has poor compression set, which means the pads do not fully recover when compressed repeatedly during use and will eventually flatten and 'bottom out' when kneeling. Even with thicker, bulkier designs to try and compensate, they deteriorate and become thinner over time – the cushioning and support performance of EVA knee pads therefore have an 'expiry date'.  
"This reduces the level of comfort that the pads might have provided on first use," explains George Livingston, D3O Program Manager and leader of the D3O® TRX™ project team. "More importantly, though, it quickly decreases the protection and cushioning offered. After a month or even less of repeated use, a worker might find themselves 'feeling the floor' because the material is worn out. Our research also shows that repeated compression leads to deformation of the pad and a diminished fit. These pads are aimed at giving short-term comfort rather than the long-lasting protection that workers actually need. 
"It might seem appealing in the short term to go for a cheap option," Livingston adds, "but over time this means having to replace the pads more often, making premium pads such as the D3O® TRX™ range by far the better option. Kneeling is an unnatural position; a worker can be confident that a truly fit-for-purpose pad will allow them to work long days while staying comfortable and reduce the risk of severe injuries down the line."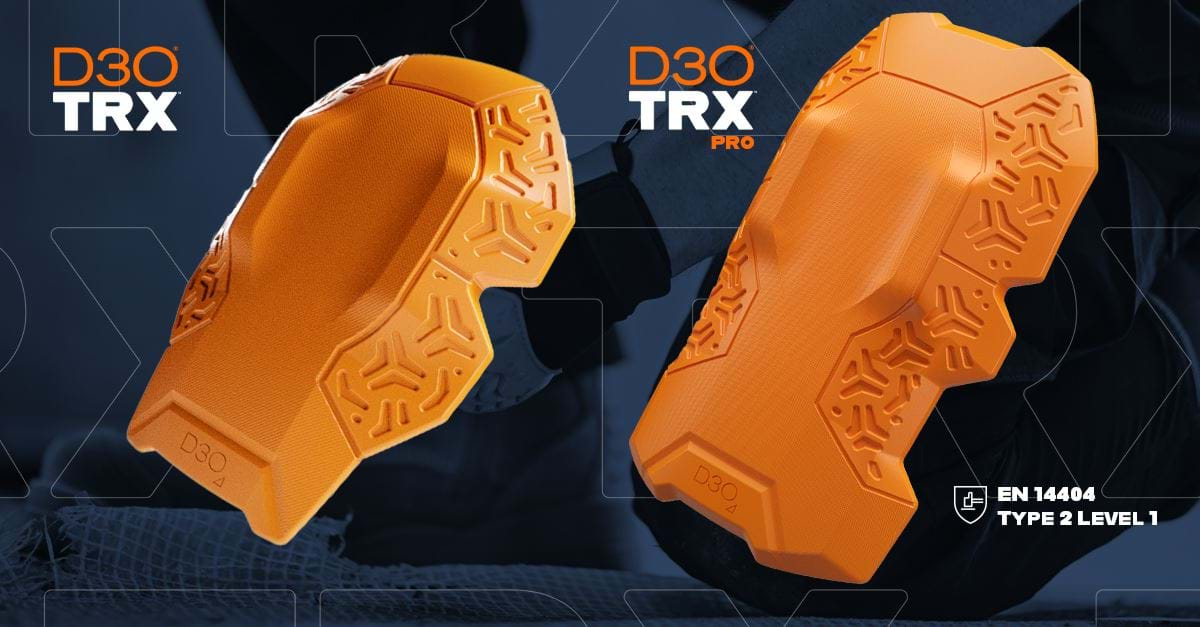 Design for discretion and support
D3O already develops the highest performing protective gear for industrial and DIY workers alike, delivering toughness and durability without reducing dexterity and movement. Now, D3O® TRX™ and D3O® TRX™ Pro comprise the world's most advanced knee pads for construction and other work, offering the same credentials plus additional features to meet the specific requirements of workers repeatedly kneeling, standing and moving around on site. 
"The material used to engineer D3O® TRX™ products provides a number of key properties that you might describe as 'D3O's DNA'," says Product Designer Jack Zvaigzne. "Namely optimal load distribution, cushioning, pressure reduction, comfort and longevity.  
"The pads are constructed using a low-density, patented formulation that is resilient to flattening. The material is tuned to maintain its cushioning and protection properties even after repeated compressions. This ensures the pads stay soft and flexible, acting almost like a hammock for the knees.  
"Extensive testing has shown no drop in performance over time, in terms of both protection against injury and resistance to penetration by a sharp object. The material is machine washable and also temperature stable so it's equally effective in hot and cold conditions." 
Zvaigne highlights what he describes as the product's 'stealthy' design: "D3O® TRX™ pads are thin, tapered and discreet inside pants, which is important for lifestyle workwear. We've been able to reduce thickness in those areas where there's no loading therefore less protection is needed. They're ergonomically designed to suit all existing work pant knee pad pockets, and their flex points and relief channels give an adaptive fit. Whether the wearer is kneeling, standing or walking, the pads neatly blend into the pant."  
Furthermore, the D3O® TRX™ range includes a unique element devised after extensive research into the movement patterns of workers who spend long periods kneeling. This is a 'rail' feature to provide unmatched lateral knee support. "We found concerns about the knee 'rocking' from side to side, so that a wearer might be unsure whether their pads were in the right place," says Livingston. "With D3O® TRX™, the side-to-side security provided by the geometry of the rail feature builds trust in the product. It means greater precision and stability for the worker and less fatigue when they're performing tasks." 

Keeping performance on track
An integral part of the D3O® TRX™ range is TRX™ Pro, a knee pad providing the same levels of performance but with additional CE certification. EN 14404:2004 + A1:2010 is the European standard developed to assess industrial knee pads. TRX™ Pro is classed as a 'Type 2' knee pad, meaning it's held in pockets on pant legs or permanently attached to pants, with the position of the kneepads either fixed or adjustable.  
To gain certification, three tests are conducted: a peak transmitted force test to simulate kneeling several times in quick succession; a force distribution test to assess the knee pad's effectiveness in spreading the load over its surface when kneeling; and a penetration resistance test to measure the performance level of a pad when protecting against sharp objects. TRX™ Pro is certified at Level 1, which means that the internal surface of the pad does not deflect by more than 5mm during the penetration resistance test when a force of 100 Newtons is applied. 
"For brands," Livingston concludes, "the TRX™ range is an opportunity to leverage a proven world-leading knee protection product to stand out from the competition. It's an easy upgrade to workwear clothing ranges. 
"From an end-user standpoint, PPE becomes one less thing to worry about. They can be confident that it will do what it's meant to do, every single time. D3O® TRX™ will keep someone who's on their knees for long periods comfortable, reduce the risk of injuries and give them the confidence of long-lasting protection from a product that's built for use time and time again.  
"After all, the cost to a worker of replacing their knees is far greater than the cost of replacing their knee pads."