Ewa Stunts is a street bike freestyle athlete and ICON Motosports Ambassador. She was the first female rider from Poland to take part in a European stunt competition, with her career highlights including a performance at the legendary Hockenheim race track in front of 50,000 fans.
How did you get into motorcycles?
When I was a little girl, I adored foreign movies with female motorcycle riders. Blond hair that was visible under the helmet always excited me. I often imagined myself sitting behind the handlebars and still remember the adrenaline that shot through my veins after my first motorcycle ride with my uncle.
It scared the hell out of me, so I forcefully shut my eyes to avoid looking at the road. It was so long ago, but It feels like it was just yesterday.
I bought my first bike somewhere at the end of 2008. It was a Honda CBR 600 F3. It was ugly, heavy and badly damaged after a crash.
I remember the day I got to Germany from Poland to buy it. Basically, all I wanted to do was to check the condition of the engine to see if it was suitable for stunt riding. After I started the engine there was some smoke coming out of it so buying it became quite a risk.
I couldn't afford anything at the time, so I just bought the best bike I could find. My attitude was "now or never!" I'll never forget the look on all of the faces when I brought it home.
How did you go from that into stunt riding?
I was always very dynamic, energetic and constantly trying to find myself. I felt that the things I was achieving were not enough at the time and I was doing a lot of soul searching.
I love big challenges and breaking stereotypes, so becoming a female stunt rider was one of them. Nobody believed I could make it happen.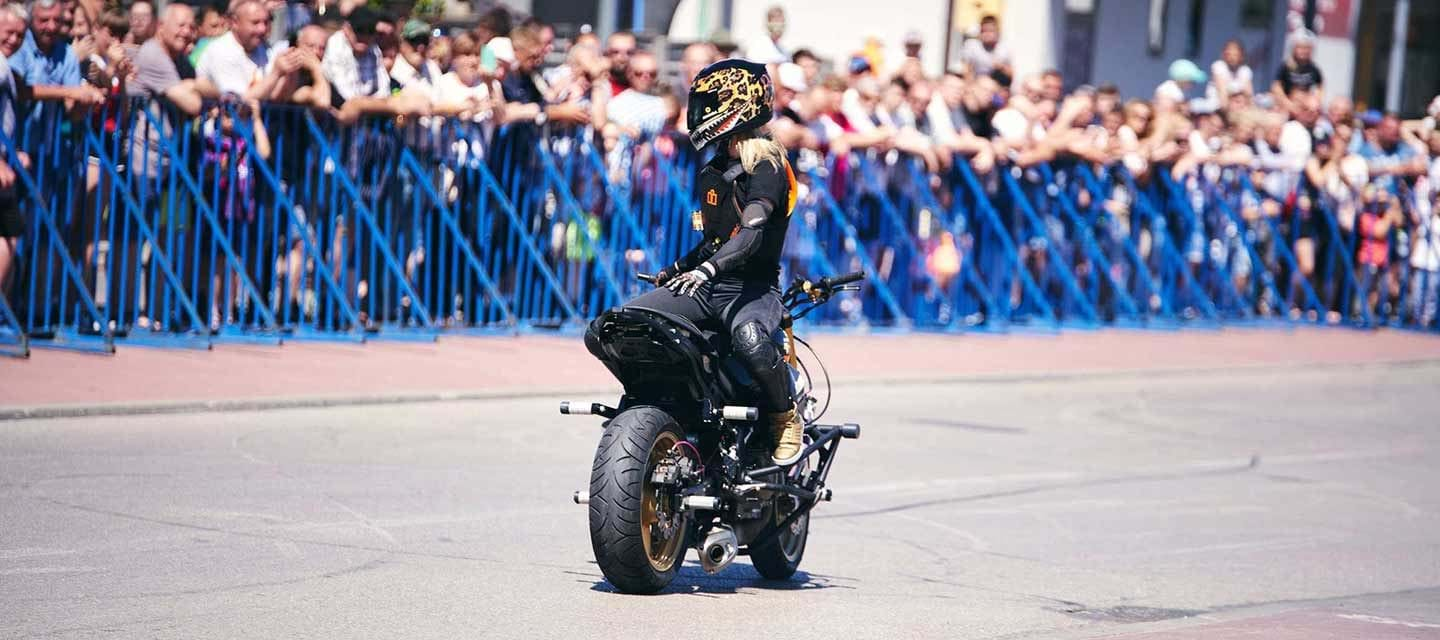 I may be very small, but I have a big heart, so this sport is a perfect way for me to overcome my fears, fight my weaknesses and break my barriers. It is totally exciting and also connects me to other elements of entertainment and sports like photography, film and the basic connection to many different people.
How often do you have to practice?
It is great to be on my motorcycles every day but it's not always possible. There are many other exciting aspects to my career that let me be creative as well. When I'm off my bikes I'm working on them, scouting for locations for my next projects, or preparing myself for my next tour.
I'm very thankful that I was able to make my hobby to my career and that I can express myself through my "job". I have produced various videos and have had many photo shoots for big international companies so I'm constantly being motivated to keep doing what I love to do.
You wear a lot of ICON Motosports gear – Have they been supportive of your career?
After I bought my first bike I had to save again for my first gear. I couldn't afford great equipment right away and found myself borrowing stuff from other riders like the helmet from my uncle. I had to try so many helmets on before I finally found the perfect one for me.
I was in love with the ICON collection from the day I saw it on the internet. Back then they were not available in Poland, so I didn't have the opportunity to try on any ICON products or find out what size might be perfect for me.
One day I decided to order a helmet and it was the best decision ever. I fell in love even more. Who would've known that one day I'd become an ICON rider. Miracles DO happen!
We saw your D3O® armor video – How did you learn about D3O®?
I'm obsessed with ICON gear so it's obvious that I came into contact with D3O® armor. As a stunt rider, I need to feel as comfortable as possible while practising and performing. The flexibility of the armor is amazing!
I also want to look good without lacking the necessary protection that I need in this high-risk sport. So, D3O® armor combined with the ICON collection is the perfect solution for me.
What has your experience of using D3O® been like?
The ICON gear together with D3O® already saved my neck. For example, at one of my shows in Ischgl, Austria I had a crash in a very heavy rainstorm.
It was pretty nasty, but thanks to you guys and my guardian angel I was still able to perform! Thanks, Ischgl for the invitation, you made me feel very special!
Besides that one, I've had a whole bunch of risky situations. It's good to keep in mind that the bike is over 200kg and over 130hp.
It's not a toy and the risks of getting injured are extremely high. I've paid the price for my passion with many bruises and even broken bones, but I wouldn't change it for the world.
What's your favourite thing about doing a show?
I really love to ride for my fans. Every show is totally different and a big challenge. You never know what's around the corner. There are many factors that can influence the way you perform. For instance, weather conditions, the surface quality and the size/shape of the spot, reliability of the bike, and of course my health.
I have to stay very focused at every show, but the experience is really amazing. I do what I love and love what I do. No one can take that away from me and I'm thankful every day for that.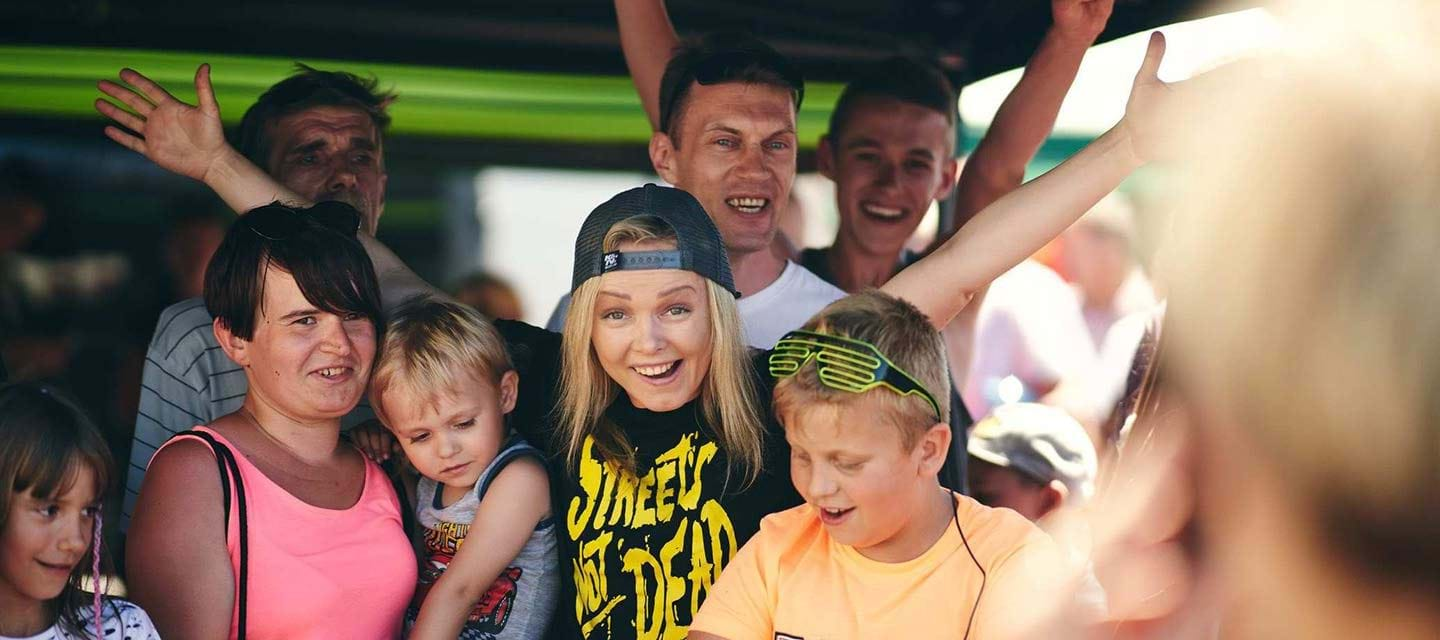 All photos © Ewa Stunts. For more information on performances, plus photos and video, go to https://ewastunts.com.