MOTORCYCLING APPAREL SHOULD NOT BE A ONE-OFF PURCHASE – UPGRADING THE ARMOR WITHIN IS A WAY FOR RIDERS TO UPGRADE THEIR PROTECTION TOO. D3O OFFERS EIGHT CONSIDERATIONS TO STAY SAFE ON YOUR BIKE.
According to the National Highway Traffic Safety Administration(1), 89,000 U.S. motorcyclists suffered a road traffic accident in 2017. Just over 5,000 riders lost their lives – a 5.6 percent decrease on the previous year, but still proof that motorcyclists are significantly over-represented in all traffic accidents.
A study by the Association for the Advancement of Automotive Medicine(2) found that for riders aged under 40 wearing a helmet, lower limb injuries were the most frequent, followed by head then upper limb injuries. Among riders over 40, lower limb injuries were the most serious, followed by head and thoracic injuries.

All the more reason, then, not only to buy the best apparel you can afford and protect yourself head to toe, but to upgrade on a regular basis.

1. Protective gear is not an optional extra
"It only takes a split-second for an accident to happen," says Philadelphia motorcycling influencer Allan Lane. "If I come off my bike, I want to be confident that I have a good chance of getting up again."

Fellow D3O advocate and 'Babes Ride Out' founder Anya Violet T-boned a car that suddenly veered in front of her. She broke her pelvis, femur and both wrists but her injuries were less severe than expected for this degree of impact thanks to her full D3O® armor.

"There's no reason not to have protection if you want to ride in casual clothing," says Adam Turvey, Principal Designer at D3O. This is especially true of the latest technology and product innovation from D3O: D3O® Ghost™ limb protectors, which are designed as 'fit and forget' armor. Printed onto lightweight black lycra fabric, they give CE level 1 protection plus complete freedom of movement and a perfect fit against the body.

2. Your gear is as important as your bike
Many riders blow their budget on a bike then buy what Lane terms a 'this'll do' jacket. If you have a budget of $5,000 to buy a bike, for example, around 25 percent should be allocated to apparel(3). Taking time to get properly kitted out means the apparel and armor will fit like a skin to save your skin. "Fit is critical," says Turvey. "Buy the wrong size jacket and you may then have the wrong size protector which could move around in an accident."

3. Not all armor is created equal
Standard pads may appear to provide protection, but you may not discover the truth until it's too late. Read the product label and always choose CE certified armor. A CE marking gives a customer confidence in the protection they are buying. It shows that best practice has been maintained in all areas of the design and manufacturing process, and conformity with health, safety and environmental protection. Look for abrasion-resistant materials held together by advanced construction methods. Seams can blow apart during an impact or slide, exposing the rider to risk of injury.

4. Build upgrades into your riding budget
The life expectancy of D3O® products depends on the conditions in which they're used and how well they're looked after and stored. D3O® protectors are engineered to withstand multiple impacts, though their reusability will depend on the severity of the impact. No matter the armor brand you wear, plan replacements into your budget.

5. Upgrading your gear is a chance to upgrade your protection
Your favorite old pair of jeans may be held together by little more than luck, and they're not going to save your life in a motorcycle accident. Same goes for hand-me-down gear. "Top riders are head to toe in the latest and most protective apparel available," says Lane. "They're professionals, but they're still made of skin, blood and bones like the rest of us. They know why it's so important to choose the most appropriate gear they can afford and so should we."

6. Think about your riding environment before buying
"Choose the right level of protection for your activity," says Turvey. "Adventure riding, for example, has a greater likelihood of a rider coming off their bike, while road furniture can present unique hazards in urban environments."

For track riders needing enhanced level 2 chest protection, the D3O® Racing Chest Protector offers extended coverage across the sternum and ribs, with a customizable polycarbonate shell. Its low-profile, dynamic fit allows it to sit perfectly inside race suits for optimal comfort.

Indeed, comfort is a prerequisite for all riders. A common and treacherous distraction is a high humidity level: "Ask 100 riders what temperature they prefer when they ride and you'll get 100 different answers," says Turvey, "but they will all say they don't like feeling clammy."

To address this, D3O uses unique geometries to increase air passage and moisture flow from the body through the pad, maximizing comfort in warm conditions without sacrificing performance. The D3O® CP1 chest protector, D3O® LP1 and LP2 Pro limb protector range and D3O® BP4 back protector are all designed to offer the most advanced breathability on the market, with the BP4 as the latest addition delivering 34 per cent more breathability than the next best competitor.

7. Take care when switching from one protector to another
Dimensions and fit may differ, while the pocket sizes may vary or use an alternative attachment system. Also, in some jackets and trousers the armor is not removable. Don't be tempted to cut or trim any parts – it may impair the protection provided.

8. Don't forget your hands and feet
More than half of the bones in your body are found in your hands and feet – 27 in each hand and 26 in each foot. A study of 1,252 U.S. motorcycle crash injuries(4) showed that 8.63 percent of fractures were to the hand/wrist and the same percentage to the foot. Even the more casual motorcycle street wear can contain integrated D3O® knuckle and ankle protectors.
Decoding CE labels for back, chest and limb protectors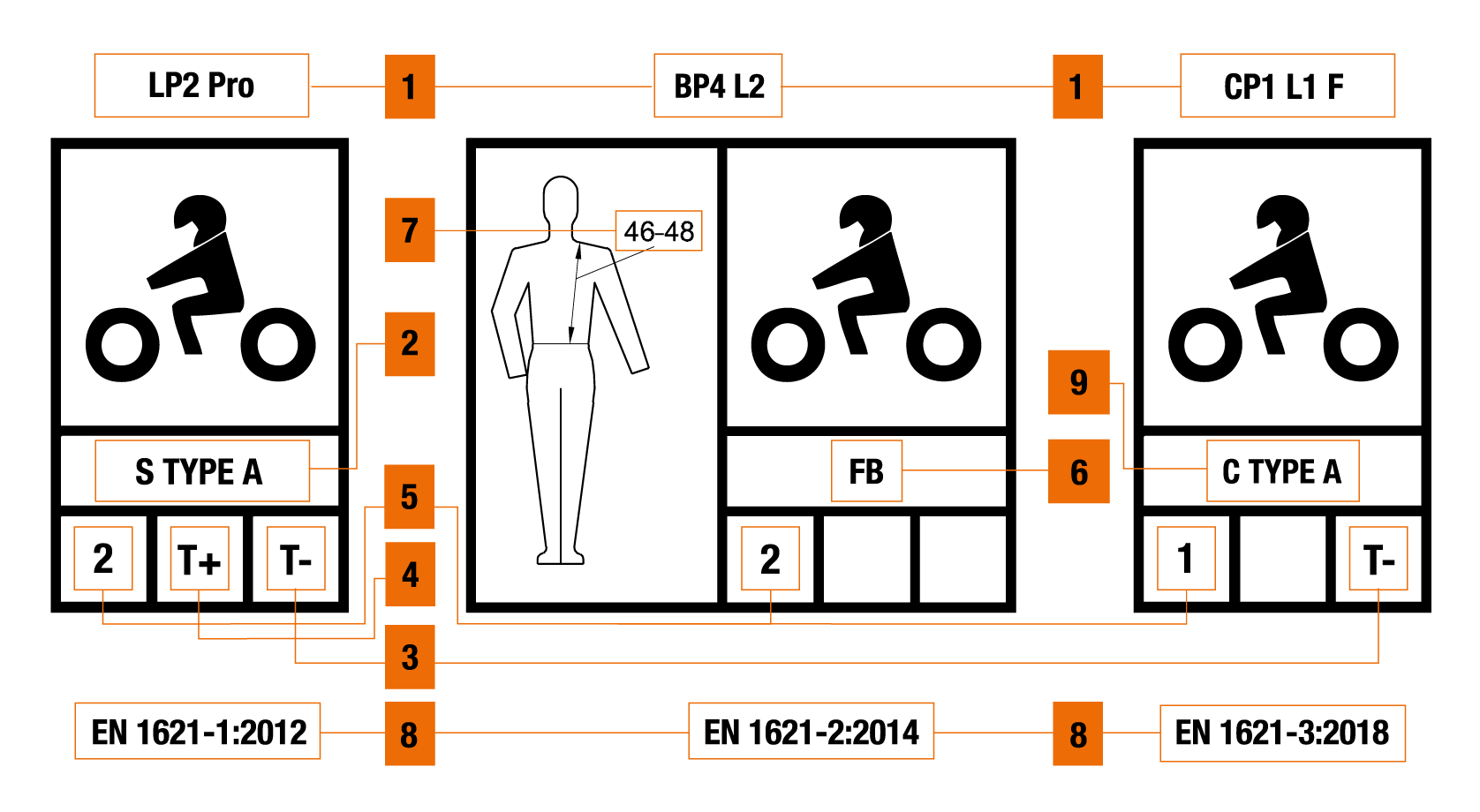 1. Product name.
2. The area the pad covers with S (Shoulder),E (Elbow), K (Knee and upper tibia), H (Hip) and K+L (Knee, upper and mid tibia). Type B protectors provide more coverage than Type A protectors.
3. Shows if the product has passed optional impact tests at -10°C.
4. Shows if the product has passed optional impact tests at 40°C.
5. Level of protection, with Level 2 products offering a higher level of protection than Level 1 products.
6. Back protector type with FB = Full Back protector, CB = Central Back protector and LB = Lower Back protector.
7. The minimum to maximum length covered. Back protector sizes are defined by the length of the back between the waist and junction of the shoulder and neck.
8. CE Standard met.
9. Chest protector style denoting whether it is a single piece (C) or two separate halves (DC). Type B protectors provide more coverage than Type A protectors.